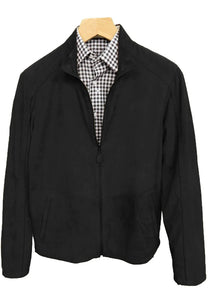 Marcello Sport's extra-fine suede jacket features a reverse side of clean nappa leather and is adorned with leather detailing and delicate pic stitching. This shirt-weight, reversible coat has a suede exterior and leather interior with leather trim along the shoulder and sleeve. It also features side slash pockets, open sleeves, and an open bottom in a straight, contemporary fit.
Reversible Napa Jacket
Extra fine suede outer reverses to leather inside.
Very light weight.
Nappa leather accent trim.
Classic zipper pockets.
Stand up relaxed collar looks great on.
Standard open sleeve can be cuffed for added style.

Straight cut model is best for a slim to moderate build.